Landscape Lighting Gives Your Paris Investment Property An Edge Over The Competition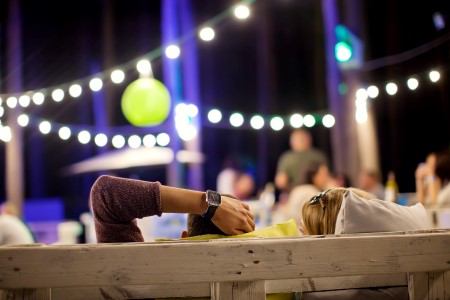 Are you a residential property investor who owns rental homes in Paris, Texas? If so, there may be some reasons you'll want to install additional landscape lighting for your residential properties. Landscape lighting can make a spooky, dark home look more expensive and appealing after dark. It also adds security for those times the home may sit empty.
No matter what grade of rental home you own, you as an investor can always have certain advantages over other property owners who compete for renters. Landscape lighting installation is one such advantage.
One bit of advice, please always have a qualified electrician install lighting. You can call our Paris electricians at Hargis Electric LLC and we'll give you a competitive estimate for landscape lighting installation.
Renters Love Landscape Lighting
To give you an idea of what we're talking about, let's first put you in the shoes of someone looking to rent property in the Paris area.
First of all, most people who look for homes to rent are workers that spend every day of the week at work. Which means that a majority of the people actually doing drive-bys are looking at your property after work hours or on weekends.
Since most investors are home by then and not showing property, this means that a good number of potential qualified renters are never even seen or heard from because they look at your properties after dark.
Imagine yourself as one of those renters who doesn't bother to try to get a late showing, or they want to drive by to see if it's even an interesting place. They drive along trying to find the property, probably in an unfamiliar neighborhood or part of the city in the dark. They finally spot the address (hopefully) and pull up, taking a slow look at how the house looks.
But…everything's dark and they can't see a darn thing. Maybe a light was left on inside, but still, the yard looks strange and a little spooky and well…they're just not sure about this place and whether it's been kept up or not. So some braver souls decide to pull up and try to take a look around.
But all they can do is trip through the grass and sticks, all the while thinking about snakes, and try to peek in a window in the front of the home. Since they can't see anything outside or in, it's just not worth it to look around further so they leave thinking they'll have to come back. But the next day an appointment with another realtor leads them to another home and they've already forgotten about your dark and spooky house.
Unfortunately, you as the investor just lost a lot of potential clients because your property had no landscape lighting for the potential renters to see by. Most just do a quick drive by, so you want to capture their attention right away.
Landscape Lighting Installation For Safety
A properly lit house only needs to have a few key areas lit up for safety purposes. You'll want to be sure there's a driveway light posted high enough to offer plenty of lighting for vehicles to pull in and get out of the car.
You'll need to be sure sidewalks and pathways around the exterior are lit with some lower voltage choices. And porch lights should be sufficient to provide enough light for safety.
Landscape Lighting To Highlight The Home's Best Features
And finally, you'll want to install landscape lighting to make the property more attractive.
If you install some basic lighting for the home (there are plenty of energy-saving light fixtures today), and you add a couple of spot lights for focal points (like at the base of a pair of trees, a small bird bath, or a fountain), you're creating a lovely looking home for nighttime curb appeal.
Consider this…how many times have you driven in a neighborhood after dark and you're naturally attracted to the Paris homes with landscape lighting? It makes the home look warm, comfortable, and more expensive. It will also mean that your empty property is lit well to ward off criminal activity. Landscape lighting helps neighbors and patrolling police to monitor your property after dark.
And when you do rent the homes out, you'll have very thankful tenants who are interested in a higher end property that has good lighting for their enjoyment at nighttime. It's a win-win situation all around!