Paris Sign and Neon Repair Contractor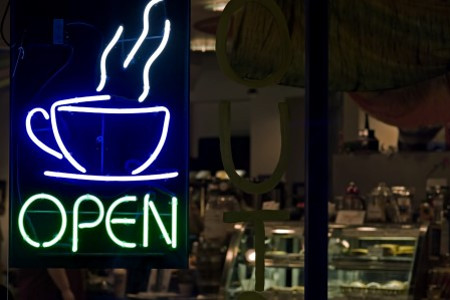 A bright sign helps your customers identify your location from the road and welcomes them to your site. At Hargis Electric LLC, our commercial sign and neon services include installation of interior and window signs, scheduled inspection, maintenance and cleaning, and sign re-lamping.
Why Repair Your Neon Sign?
There is no advertising that a business uses that is more important than a sign. It is the very first impression a potential customer receives; it sells your business 24 hours a day. The per exposure cost of sign advertising is the least expensive advertising you will ever purchase. It is vital to the image of your business to keep this tool in excellent repair because the impression created by the sign's appearance is a direct reflection of what the potential customer will expect.
Our professional commercial electricians offer a wide range of services to repair and refurbish your sign including electrical troubleshooting, refacing, sign removal and disposal, and building patching and repair.
Why Paris Should Hire Us For Their Neon Lighting Needs
We will do all your neon lighting work personally to guarantee an excellent job for you. All the lighting materials we install for your project will be the finest that are available. We make sure we keep a clean working environment and take all trash with us at the end of each day.
Our fully stocked service vans make it easy for us to do your neon lighting project quickly and efficiently. Whether you need a lighting fixture replaced, or a new lighting system added, you will receive fast, professional service from a qualified Paris electrician.
Neon Lights Are Old News
We're all familiar with the brightness and excitement of traditional neon light fixtures. They create their staple colors by a chemical reaction between neon gas and electricity in their glass tubing. Because of this, they are expensive as well as potentially dangerous. If the tubing were to break and neon gas was to seep out, it could cause you and your business some issues.
Luckily, there are LED neons that you could use instead of conventional neon lighting! In LED neons, many small lights are placed inside the tubes to mimic the reaction between neon gas and electricity without the extra expense and risk. Hargis Electric LLC is happy to be a provider of LED lights to replace neons for your business sign, as well as sign LED retrofit and repairs.
The Importance Of Converting To LED
Many home and business owners alike are converting from incandescent, fluorescent, and halogen light bulbs to LED bulbs, and for good reason. LED light bulbs were designed to be more energy-efficient than other kinds of bulbs, producing light up to 90% more efficiently than their counterparts. And while LEDs were expensive when they were first introduced to the market, it made sense; while a traditional incandescent bulb costs half the price of an LED, the LED bulb is made to last five times longer than the incandescent one, saving you money in the long run.
The longevity of the LED bulb is likely its best quality. While other kinds of bulbs burn out completely at the end of their lives, LEDs simply lose their glow slowly over time, meaning they still create light until the end. Their longer lifespan saves consumers money and helps the environment through energy efficiency.
Our Paris Neon Lighting Contractor Provides
Neon Lighting
Neon Rope Light
Home Neon Lightsv
Neon Home Lighting
Neon Tubes
Home Lighting Ideas
Neon Lights For Home
Neon Lighting For Home
Home Neon Lighting
Home Lighting
Neon Light
Neon Lights
We Provide Neon Lighting In The Following Areas
Lamar County | Delta County | Hopkins County | Red River County | Fannin County | Hunt County