Security & Video System Installer Helping Keep Paris Properties Safe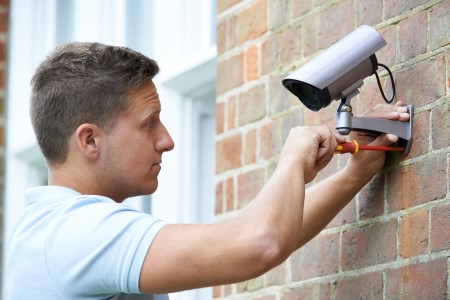 At Hargis Electric LLC, we're the professional security & video system installer you can trust in Paris for all of your security needs. We believe that every residential electrical system should be used to enhance the safety and security that your family enjoys within the home. One of the best services in this regard is installing high-quality security cameras alongside alarm and security systems. Our professionals can provide you with a fully integrated security camera system that will vastly improve how you and your family use your home.
When you hire our contractors for the task, you can feel confident knowing that you made the best possible choice for the job. We're the electrician in Paris that has been providing the highest quality electrical services to local residents since 1985. We have been so successful over the last three decades for one simple reason: in every project we undertake, our team places customer satisfaction as our highest priority.
If you have been looking for a security & video system installer who can design and install a security camera system on your Paris home, call Hargis Electric LLC today. Our staff would be happy to discuss your unique needs and goals with you and to tell you how we can provide for them in the best and most customized manner possible. We would be glad to schedule your consultation today.
Video Camera Installation
A well-designed security camera system will enhance the comfort and safety that your family enjoys at all times of the day. When you and your family are away at work and school, your property will have a heightened level of protection. In the evening hours, your security cameras will deter potential harmful activity from occurring on or around your property.
This added sense of security and safety is absolutely invaluable. From something as simple as tracking packages left on your doorstep and protecting your property from vandalism to making sure no one trespasses in your backyard, a visible security camera can not only catch someone in the act but can also deter such activity. If you want to enjoy benefits like this for your home in Paris, call our trusted security & video system installers at Hargis Electric LLC today!
Cameras Integrated With Other Technology
In this day and age, electrical components and systems are all focused on creating a smarter home. Our Paris electricians can be the security & video system installer you need to help install security cameras that are integrated with other systems on your property and with your remote devices. When we design your security camera system for you, the possibilities for integration and ease of use are endless. You can even monitor activity at your property on your tablet or smartphone. Your security cameras can work with motion detectors and security lighting. Having a fully integrated security camera system maximizes the benefits of all of these smart home additions.
If you're ready for your home to be equipped with everything it needs to offer you and your family the utmost protection, call Hargis Electric LLC today. We're the top-rated security & video system installer in Paris.