Parking Lot Lighting and Security Lighting in Paris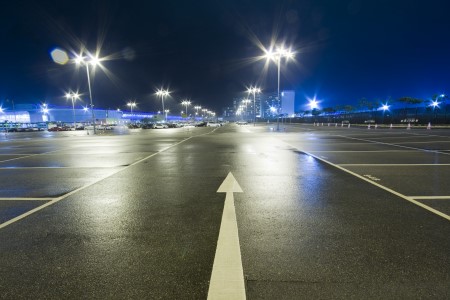 Parking lot lighting represents an investment that every Paris area commercial business must make to successfully operate a business. Hargis Electric LLC can upgrade the parking lot lights either to increase luminosity to legal levels or to more aesthetically illuminate the facility and add a decorative touch to the lot that compliments the architecture and landscaping of the property.
Parking lot lighting can be as ornamental as it is utilitarian when deployed by professional electricians. Parking lot poles come in a number of sizes and styles that add a decorative touch that contributes to entertainment, romance, and luxury. For restaurants, shopping centers, and commercial facilities we normally install standard parking lot light poles that measure from 25 feet on up to 45 feet in height. This proves very cost-effective for businesses with exceptionally large parking lots because a smaller number of tall poles cast a greater field of light across the pavement. For smaller lots adjoining parks, or for parking facilities surrounding luxury hotels, country clubs, and resorts, 12-16 foot poles with ornamental bases and fixtures add an elegant complement to the lighting theme.
Why Paris Should Hire Us For Their Parking Lot Lighting Needs
Just what do you need a Paris electrician for? Well, most people think that you only need an electrician when you are constructing a new home, but this is simply not the case. In fact, if you have anything in your home that has to do with electricity and it needs repairs, it is far better to call in a Paris electrician and to get them to fix it for you. If you make a mistake while trying to fix your own wiring and the like, such an error can be quite costly to you. Thus, when it comes time to repair or upgrade the wiring of your parking lot lighting, it is time to call a professional electrician.
Electricians go to school and learn everything they need to so that your wiring is correctly installed in your lighting system. If the wiring is not correctly placed, you can run into increased financial costs to fix errors. This is where relying on a professional to do the work for you comes in handy. If you have a professional that knows all the ins and outs of installing electrical wire and lighting fixtures, you are far better off than if you attempt such things on your own.
Why You Should Convert To LED Lighting For Your Exteriors & Parking Lots
Over the last few decades, more and more people have started converting from incandescent lights to LED ones. As a professional electrician, we agree with this switch! But why?
Energy savings means saving money: Switching from incandescent bulbs to LED ones offers huge savings in energy used in your home, which also means you save money. LEDs use up to 80% less energy than conventional incandescent bulbs, making them way more efficient and less expensive to use.
Environmentally conscious: LEDs don't contain any mercury, which can be found in other kinds of light bulbs. They also use less energy, as stated above, reducing their impact on the Earth.
Long service life: LEDs last far longer than incandescent bulbs. Depending on how much the bulb is used, one LED can last for decades! While LEDs do cost more, you'll be saving money in the long run by using them because you'll be buying them less often.
As you can see, there are plenty of reasons you should choose LED lighting for your exterior and parking lot lighting. As the leading electrician in Paris, we can provide you with all sizes and colors of LED bulbs you may need, as well as other kinds of lighting like Oncor LED retrofits. If any of these things and more interest you, call us today! We can talk about switching your business over the LED lighting and much, much more.
Our Paris Parking Lot Lighting Contractor Provides
Parking Lot Lights
Parking Lot Lighting Maintenance
Commercial Parking Lot Lighting
Parking Lot Light Fixtures
Parking Lot Lighting Fixtures
Solar Parking Lot Lighting
Parking Lot Lighting Design
Affordable Lighting
Parking Lot Light Poles
Led Parking Lot Lights
Parking Lot Light
Parking Lot Light Pole
We Provide Parking Lot Lighting In The Following Areas
Lamar County | Delta County | Hopkins County | Red River County | Fannin County | Hunt County
If you're looking for a professional exterior and parking lot lighting contractor in Paris, then please call us today at 903-785-8055 or complete our online request form.