Generators In Paris, TX & Surrounding Areas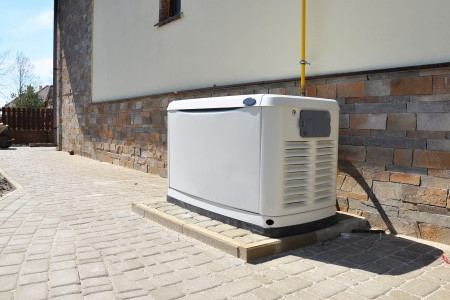 Power. Our lives depend on it. From everyday necessities like heating, cooling, refrigeration and lights, to daily essentials like cooking, laundry, or kids' bath times. Power outages are occurring more frequently than ever and lasting longer with devastating effects. Stand up to unpredictable weather and unforeseen outages with the most trusted name in residential standby power. If the power ever goes out, your Generac standby generator goes on - automatically - protecting you and your home 24/7. Luckily, we're a local electrician that offers these generators to our Paris customers.
There are a lot of causes for a power outage. It might be due to a storm or very bad weather which caused the power lines to be out. Heavy rains, accompanied by lightning and thunder, snowfall and ice storm or a very windy weather condition cause power interruption where the trees fall and the electrical lines are damaged. It can also be due to a problem with the power supply in your own place or delivery of supply of electricity is disrupted for some reasons.
Oil Changes For Generators
Keeping your generator in good working condition is vital. Too often, you don't know you're going to need it until the last minute. That's why proper maintenance of your generator should be at the top of your home improvement list! One of the best ways to keep your generator in shape is to routinely change its oil. The rule of thumb for a generator oil change is to take care of it annually OR after every 200 hours of use, which roughly translates to about 8 days of use. When your generator needs an oil change, you can take a look at its product manual to do it yourself, or call in a pro like Hargis Electric LLC to take care of it for you.
Why Paris Should Hire Us For Their Generator Needs
At Hargis Electric LLC, our expertly trained Paris electrician provides the installation of all types of sports lighting systems. We also have the training and equipment to troubleshoot and repair your Paris sports lighting systems, as well as perform panel upgrades and replacements. Another service we provide is re-aiming and re-lamping your field to return it to original specs...call today at 903-785-8055 for more details.
Providing Home Generators To The Following Areas
Lamar County | Delta County | Hopkins County | Red River County | Fannin County | Hunt County