Panel Upgrades And Replacements In Paris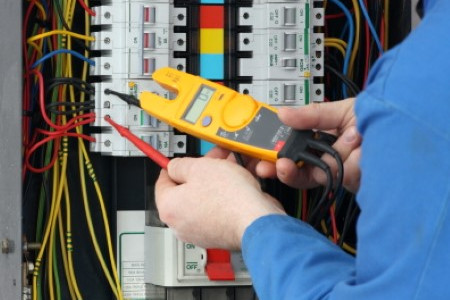 If you are contemplating a major remodeling project, the addition of a room or garage, or a new kitchen you should consider calling on a professional electrician like Hargis Electric LLC to upgrade your electrical service in your Paris area home. Thirty years ago, the average new Texas home was equipped with a 60 amp electrical service connected to a screw-in fuse panel with two fuse blocks. The common distribution was a fuse block for the stove and one for the hot water tank. The balance of the home's electrical needs was served by six, 15 amp screw-in fuses.
Twenty years ago, the average new home was equipped with a 100 amp electrical service and some of them used the latest in technology, circuit breakers. Now the average home is equipped with a 200 amp electrical service with a distribution panel handling up to 40, 15amp circuit breakers serving the electrical needs of the home. North Americans are electrical power-hungry.
Today, our air conditioning systems take more power than an entire home did 30 years ago. A kitchen, in a new home, will usually be equipped with a number of receptacles capable of supplying more than 60 amps just to countertop appliances. Adding receptacles does not increase the available power if they are looped from other receptacles. To get more power to a location, the circuit should run directly from the distribution panel.
Why Paris Should Hire Us For Their Panel Upgrade Needs
You'll know the cost of the job before we do the work because of our "upfront" pricing system, and there will be no billing surprises after the work is completed. Emergency service. No WAITING. With us, you can schedule an exact appointment and we are available 365 days of the year. Our well-stocked vehicles save on costly, time-consuming trips to supply houses and provide you with faster electrical panel upgrade or replacement service.
Hargis Electric LLC is the electrician in Paris that goes the extra mile in our screening and safety procedures so you can feel a higher level of security and safety in your home. We use first-class quality products and people and support that with a strong customer service-oriented philosophy. We respect your home and treat it as if it were our own.
Our Paris Panel Upgrade Contractor Provides
Panel Upgrades
Panel Upgrade
Upgrade Electrical Panel
House Rewiring
Electrical Panel Upgrade
Upgrade Panel
Home Wiring
Electrical Panel Installation
Service Panel Upgrades
Upgrade Electrical Panel Cost
Service Panel Upgrade
We Provide Panel Upgrades In The Following Areas
Lamar County | Delta County | Hopkins County | Red River County | Fannin County | Hunt County