Landscape Lighting In Paris, TX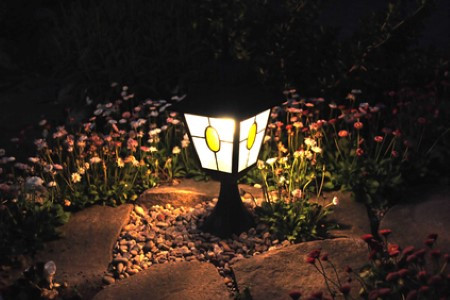 There is nothing like landscape lighting to help increase the visibility and appeal of your residential or commercial structure. Let us design a customized Paris landscape lighting program for your needs. Some of the more common applications are:
Tree Lighting
Since outdoor tree lighting requires technicians to physically climb trees to mount the equipment, it is important to keep both the safety of the tree as well as the technician foremost in mind. We avoid using any type of equipment that can scar the trees themselves.
Deck / Pier Lighting
On a wonderful spring, summer, or autumn evening when the weather is ideal and you and your family and guests are having a terrific time, it would be a shame to have to leave your deck just because the sun is going down. You can make such an evening last as long as you like by considering various alternative deck lighting solutions. Our professional deck lighting experts can help you select and install the right lighting for your deck or patio.
Swimming Pool Lighting
Pool lighting is a great addition to any swimming pool. When you have lighting installed in your pol, it not only acts as a great light source for nighttime swimming but also as a great finishing touch to a beautiful backyard landscape. Pool lighting adds a great effect by shining softly through the ripples of water. However, pool lighting is just a start, as we also install lights in water fountains. Adding lights to water fountains can really bring out the true beauty of any fountain.
Why Paris Should Hire Us For Their Landscape Lighting Needs
At Hargis Electric LLC, our commitment to quality service at a competitive rate has earned us many satisfied customers in Paris, Texas. We would like to add you to that list.
We know that you have a large choice of electricians in the Paris area for your upcoming landscaping lighting project and we want you to feel confident that we'll do the job right the 1st time. Our company is a full-service electrician in Paris offering some of the best landscape and exterior lighting installation services.
We Provide Landscape Electrician In The Following Areas
Lamar County | Delta County | Hopkins County | Red River County | Fannin County | Hunt County