Techline Sports Lightsing in Paris, TX & Surrounding Areas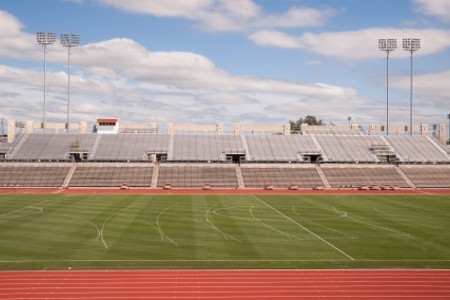 Many factors go into selecting the right lighting system for sports complexes. The difference is in location whether indoor or outdoor as both lightings have to be uniform and encouraging. If at a crucial point or strike the beaming lights hit onto a player's face a game or match is lost. Good quality outdoor Techline Sports Lighting should illuminate entire playing areas with low-mast or high-mast pole configurations depending on sports played.
For public stadiums or courts decision should be taken by experts. If deciding on personal tennis or basketball court, then also a specialist is of utmost importance. The reason is placement of wiring which should not impinge on the player's movements. The ideal mode is underground conduit wiring and maintaining high voltage to prevent voltage drop. Another must is maintenance and periodic cleaning of outdoor Techline Sports Lighting fixtures. A dusty lens causes wastage of nearly 30% of electricity and it is advisable to change lamps after 75% of usage for optimum light level. With more and more sports activities scheduled for late evening outdoor lighting has to be of recommended level to avoid glare or hit and miss lighting. Recreational or smaller sports activities normally consume 200 to 500 lux. Professional games with television coverage and larger spectator attendance average 3000 lux or 300-foot candles.
Controlling Paris outdoor Techline Sports Lighting is a challenge of quality, design, location, and alignment of field or premises. Fiber optic technology is fast gaining popularity due to its safety quotient. Besides new technical trends, certain rules need to be followed for the placement of outdoor Techline Sports Lighting. The freestanding outdoor fixtures should not exceed a certain height depending on size and level of playing arena. Similarly, a spill and glare control package should be fitted to protect spectators and players. Flashing lights that revolve or rotate or flicker should be avoided unless essential. A level playing/sports field is as important as skill and fitness of player.
Collinsville ISD Baseball
Pittsburg ISD Football
City of Mt Pleasant Soccer
Christian Heritage Longview Soccer
Honey Grove ISD Baseball
Honey Grove ISD Soccer
City of Paris Sports Complex
Chisum ISD Indoor Sports Complex
Chisum ISD Baseball
Chisum ISD Softball
Rivercrest ISD Football
Rivercrest ISD Baseball
Rivercrest ISD Softball
North Lamar ISD Football
North Lamar ISD Baseball
North Lamar ISD Softball
North Lamar ISD Indoor Sports Facility
Paris ISD Softball
Paris ISD Re-aim/Re-lamp Hub Hollis Baseball
Paris ISD Re-aim/Re-lamp Noyes Stadium Football
Prairiland ISD Football
Prairiland ISD Baseball
Prairiland ISD Softball
Prairiland ISD Football Re-aim/Re-lamp football
Whitewright ISD Baseball
Whitewright ISD Football
Commerce ISD Baseball
Commerce ISD Softball
City of Lindale Faulkner Park Little League Baseball
City of Lindale Faulkner Park Adult League Baseball
City of Lindale Faulkner Park Soccer
Clarksville ISD Softball
Mt. Vernon ISD Baseball
Mt. Vernon ISD Softball
Mt. Vernon ISD Re-aim/Re-lamp football
Cooper ISD Softball
Cooper ISD Baseball
Elysian Fields ISD Football
Winnsboro ISD Football
Texas A&M Commerce Football
Why Paris Should Hire Us For Their Sports Lighting Needs
At Hargis Electric LLC, our expertly trained Paris electricians provide the installation of all types of sports lighting systems. We also have the training and equipment to troubleshoot and repair your Paris sports lighting systems. Another service we provide is re-aiming and re-lamping your field to return it to original specs...call today at 903-785-8055 for more details.
New And Retrofit LED Installations
If you own sports fields and are ready to install new light fixtures or retrofit LEDs to your old fixtures, we're the team to call! With Oncor LED retrofits and more options from other trusted manufacturers, Hargis Electric LLC is an electrician that offers the highest quality sports lighting installations and replacements in Paris. We know how important it is for your fields to have the best lighting possible to support the athletes who use them, which is why we strive to provide service excellence when it comes to sports lighting and much more.
Re-aiming, Re-lamping, And LED Retrofits To Existing Fields
Over time, your sports lighting is bound to deteriorate-- bulbs will burn out and the aim of your lights will drift. Luckily, Hargis Electric LLC is the Paris team to call when you need re-aiming, re-lamping, and LED retrofits for your sports lighting. We'll bring our bucket trucks to any field and ensure that you get the best service for this crucial part of the sports community. As the experienced pros serving the area, we've got all of the tools and equipment necessary to give your sports lighting the care and revitalization it needs to keep doing its job. We can even retrofit LED bulbs to already existing light fixtures. Call today to learn more!
Our Paris Techline Sports Lighting Contractor Provides
Techline Sports Lighting
Techline Techline Sports Lighting
Techline Sports Lights
Musco Techline Sports Lighting
Qualite Techline Sports Lighting
Tennis Court Lighting
Techline Techline Sports Lights
Sports Ceiling Light
Techline Sports Lighting Fixtures
LED Techline Sports Lighting
Outdoor Techline Sports Lighting
We Provide Sports Lighting In The Following Areas
Lamar County | Delta County | Hopkins County | Red River County | Fannin County | Hunt County