How To Check For And Reset A Tripped Breaker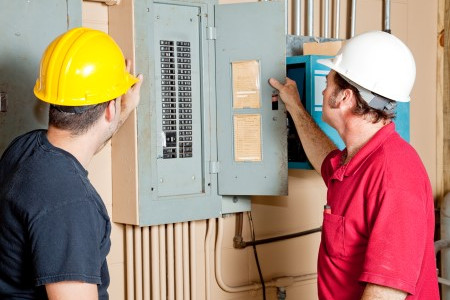 Often, I'll get a call from a customer (usually in a panic) that the lights in their living room and a couple of bedrooms aren't working. Or, maybe it's a room full of outlets that don't work. After asking if there are any tripped circuit breakers they'll usually be quite confident that they checked already and there's nothing wrong. Unfortunately, after driving all the way out there it will usually be just a circuit breaker that needs to be reset! Here's how to check for yourself:
1. Locate your electrical panel. Please note that you home many have multiple panels and it's imperative that you check each one, not just the biggest one in your house!
2. Pull the panel door open. If you're lucky enough to have a Square D QO panel (the breakers will all have little clear windows on them) it's easy to find a tripped breaker. Just look for the breaker that has a red-orange window. That's the tripped breaker.
3. With most other major electrical panels tripped breakers will either be all the way in the off position (which is extremely easy to spot and you probably wouldn't be reading this article now) or more commonly, in a "tripped position" neither on or off, but floating in the middle. It's this position that gives must homeowners a problem because the breaker looks as if it's on. Here's how you test for this: Simply go up and down your panel trying to push each breaker in the "on" position. There should be little to no play because the breaker is already on. When you come across the tripped breaker there will be a lot of excess play. Now you're ready for the next step.
4. Turning the breaker back on is a step that sounds easy (and it is) but most people don't get quite right. Nine times out of ten someone with zero electrical knowledge will simply flip the breaker towards the on position and when nothing happens assume there is a bigger problem. Here's why this doesn't work: with most manufactures you MUST flip the breaker fully off THEN flip the breaker back on.
5. That's it! Now check for power and make sure that there's nothing else still off in the house as you may have multiple breakers that could have tripped.
6. If there is no evidence of a tripped circuit breaker you should consult a licensed electrician immediately.
Legal Note: These instructions will cover most electrical panels out there, not all. As always, consult your licensed Paris electrician before proceeding or if you have any questions.